Business Domain
Harnessing synergy from 3 types of solutions
to create an innovative future through IoT&AI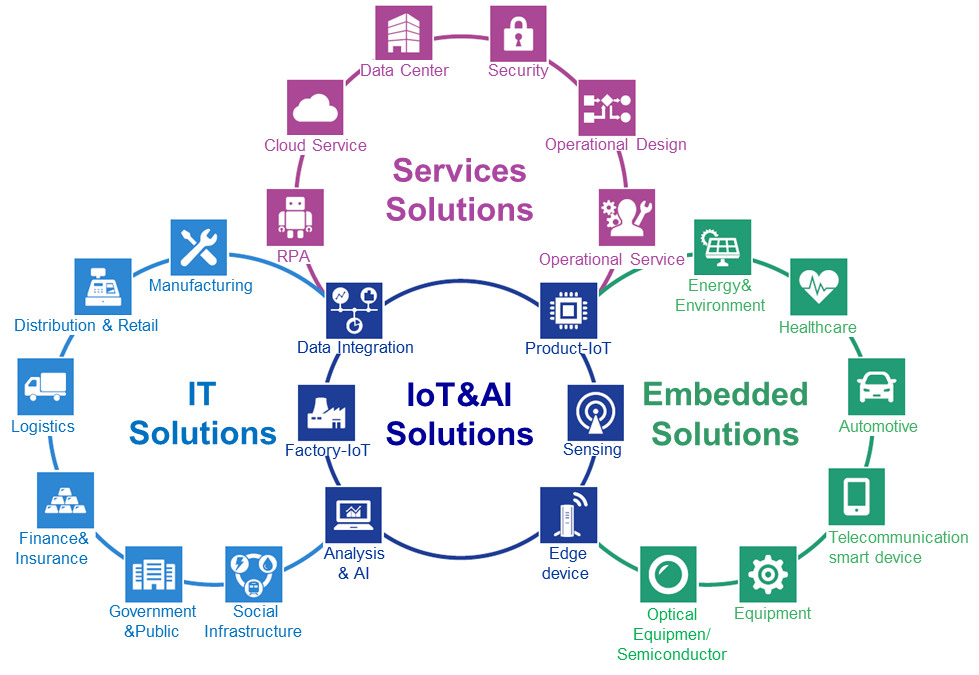 IT Solutions
■Business solutions
Drawing on business expertise built up over many years providing services in sectors such as manufacturing, distribution, finance, insurance and government, we provide our customers with the very best solutions from consulting through to system design, development, maintenance and operation.
Services Solutions
■IT services
We provide our customers with system support through a wide range of services, from designing servers and networks for optimum system performance, and developing secure environments, through to reliably operating and monitoring systems via our urban and suburban data centers.
Embedded Solutions
■Embedded system development
We have built up embedded technologies for app, middleware and driver development as a result of developing a wide range of products for the automotive and industrial sectors amongst others. This means that we can provide a range of smart technology-oriented solutions, enabling customers to broaden their product range, increase efficiency and improve design quality.
■LSI/FPGA development
We provide solutions to suit our customers' requirements, from high-level design, logic design and verification, logic synthesis and layout design, through to manufacturing and testing. We provide low-power design and advanced process services across many different fields, including image processing and communication control.
IoT&AI Solutions
■IoT&AI services
We provide support to help customers create new business value, including gathering, analyzing and utilizing data. Services are underpinned by our IoT cloud platform Toami, which makes the most of our specialist total coordination capabilities, from devices to cloud technology.
■Edge device solutions
Thanks to our extensive design and development capabilities, covering everything from embedded apps to LSI, as well as alliances with a range of sensor and device vendors, we are able to provide our customers with optimum IoT environment solutions, starting from a small scale to keep costs down.